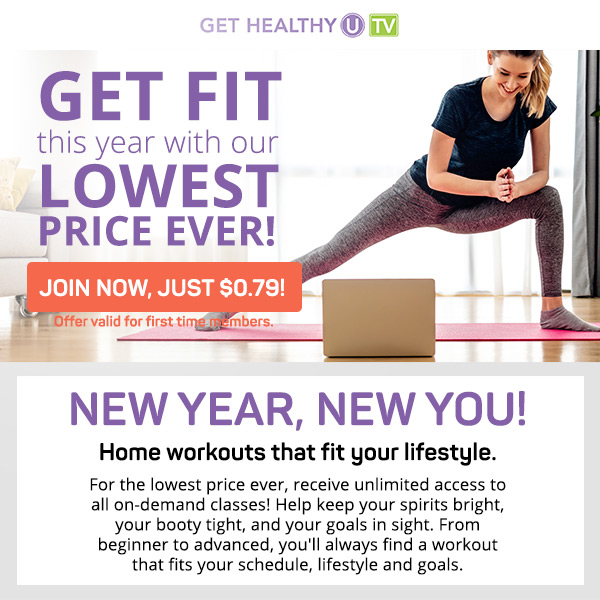 I have struggled to get to the gym (and I don't love exercising in front of strangers), so I really have appreciated video workout sessions from the comfort of my own home. I can squeeze them into my schedule without worrying about how I'm dressed or whether I'm keeping up with those around me. For me, that flexibility is key – and it enables me to actually be consistent with exercise at my own pace.
Have you been looking for fitness motivation at a cost you can't beat? Sign up for Get Healthy U Premium Membership at the lowest price ever – just 79¢ for an entire year (that's 99% off the regular price of $79!). You'll get access to hundreds of the best streaming workout videos, calendars and healthy recipes plus 24/7 access to our fitness experts.
Don't waste your time searching Youtube for random workouts—let us map out your fitness journey for you. We put together effective programs, easy-to-follow workout calendars, and a community of likeminded people to support you on your journey!
Check out a huge variety of programs including kickboxing, dance, strength training, yoga & more! Challenge yourself with a HIIT workout or get started with a low impact option. There's a plan for virtually any fitness goal, whether it's to lose the last of the baby weight or build muscle and definition. With so many options, you will find the best programs to keep you moving.
Stream on your laptop, tablet, or mobile device. Use Apple TV, Roku, Chromecast or an HDMI cord to cast to your big screen TV. (Coming soon to Fire TV)
Stay connected with a private Facebook group especially to support Get Healthy U TV members, where you can tackle monthly challenges together. Members keep each other accountable, offer motivation and support, and are always there to listen. Plus, get your questions answered daily by a trainer.