I know it's not the normal discussion around here, but it's taken my time away from matchups. I've seriously got tile on the brain these days! Please humor this off-topic post!
Our 50-year-old bathroom is beginning to crumble around us. The tile on the shower walls began curving out last year, and we held off as long as we could until we could save the money for a repair. In the meantime, a small tile repair grew big. Since the tile continues around all 4 bathroom walls, all of it would need to be removed and the walls repaired. Taking off the tile would ruin the floor, so that would need to be replaced. You know how the rest of it goes!
Tomorrow is officially demolition day at our house. The bathroom as we know it (in all of its blue glory) will cease to exist and every single piece and fixture will be replaced. I'll be posting pictures of the process soon, but in the meantime, I need to make a major tile decision. And I'd love it if you could chime in (especially because interior design is not my gift)!
In an effort to be frugal in the future – and because we know we don't intend to re-do the bathroom again for another 50 years – we've attempted to use neutral colors. The tub, sink and toilet will be white. The floor and tub tile will be a natural beige. The accent tile is still up for debate. The middle tile is the 6 x 6″ tile we'll purchase (because it matches our countertop). The border tiles on top and bottom are what we're attempting to decide between right now:
Tile Border #1:
The actual tile color: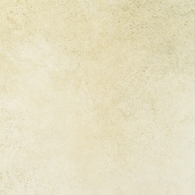 Tile Border #2: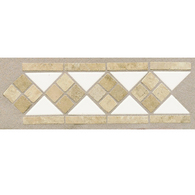 Cast your votes by commenting NOW – we need to purchase tile before Wednesday! And thanks in advance for helping (and humoring me)!